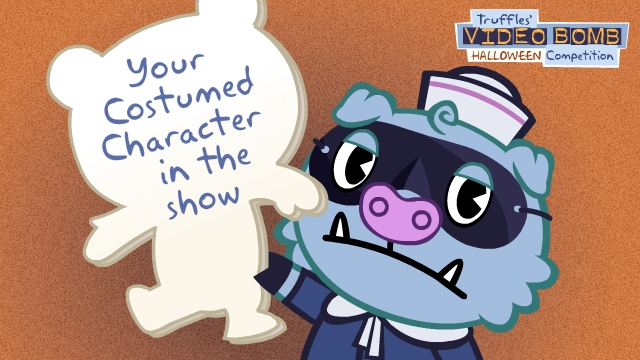 Thanks to you guys, the Truffles Video Bomb Competition was a huge hit! We got tons of awesome entries from fans around the world. The winners, Unicornius and Tricksy, will make cameo appearances in the upcoming episode, Pet Peeve. When is the episode going up, you ask? Well, keep your eyes peeled for it this Thursday. *Wink wink*

But what about the rest of the fan-characters? The ones who fought hard, but didn't make the cut? Well get your pencils ready, because here is YOUR chance to take another shot at the cameo spot!





RULES
Starting October 3rd, we're going to be accepting entries for the Halloween Video Bomb Competition. Much like last time, you'll be able to upload your character to the site. Whoever has the most votes by October 14 will be the winner. Remember that Facebook likes will be the voting system. 1 Like = 1 vote.

Since the winner of this competition will be showing up in this year's Halloween episode, all submitted characters must be in a costume!

FAQ
If you've got questions, let us know in the comments below. We'll try our best to answer them. We'll update this post with more questions, so keep your eyes on this page.

Q: Hey! When's Unicornius and Tricksy showing up? What gives?
The episode they're appearing in, Pet Peeve, is going to be released on October 3rd.

Q: I already entered that last competition. Can I submit the same character again?
Yes! As long as the character hasn't already won a competition and the character is in a costume.

Q: Characters must be in a costume? What does that mean?
It means your character has to be dressed up! It can be any costume you want. A ghost, pirate, ninja, zombie, witch... Anything that stays true to the spirit of Halloween!

Q: What is the winner going to get?
A cameo appearance in this year's Halloween episode!

Q: Can a character be removed from the contest?
Yes, but only if:
… The character was stolen from another artist without consent
… it's a copyrighted character or pre-existing Happy Tree Friends character
… the post is a duplicate (one post per character)
… the post contains offensive or inappropriate material
… the post does not contain a character at all
… if the image file is broken. Re-submission is required
... the character isn't in a costume

Q: What if we see stolen art?
If your art or someone else's art has been stolen and submitted to the contest without permission, you can email Knavarro@MondoMedia.com. Be sure to include supporting evidence. Both parties will be contacted in order to resolve the dispute.